Jansa Metal - products
New CE approved development.
Mobile ramp for loading and unloading lorries and containers. With height levelling to adapt to the level of the platform.
A ramp with double reinforcement that offers a long service life, lateral safety protection, anchorage and non-slip galvanised floor grating.
It can be fixed to the ground or mobile, to be moved to any loading point you need.
Would you like to ask for a quote to buy a mobile ramp?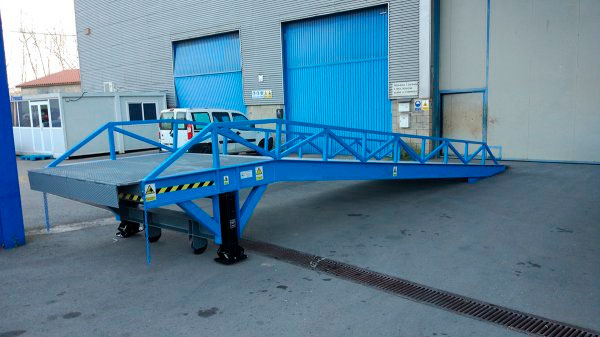 Jansa Metal - products
Prefabricated canopies for vehicle parking and outdoor storage spaces.
They can be used as solar surfaces.
Tell us about your project
ADVANTAGES
No planning permission required.

Immediate installation.

Very affordable because they are mass-produced structures.

Technicians can calculate the necessary foundations and the customer can assemble them on their own without the need for cranes.

We have 3 pre-engineered models but we can make any variations the customer may need in width, height or overhang.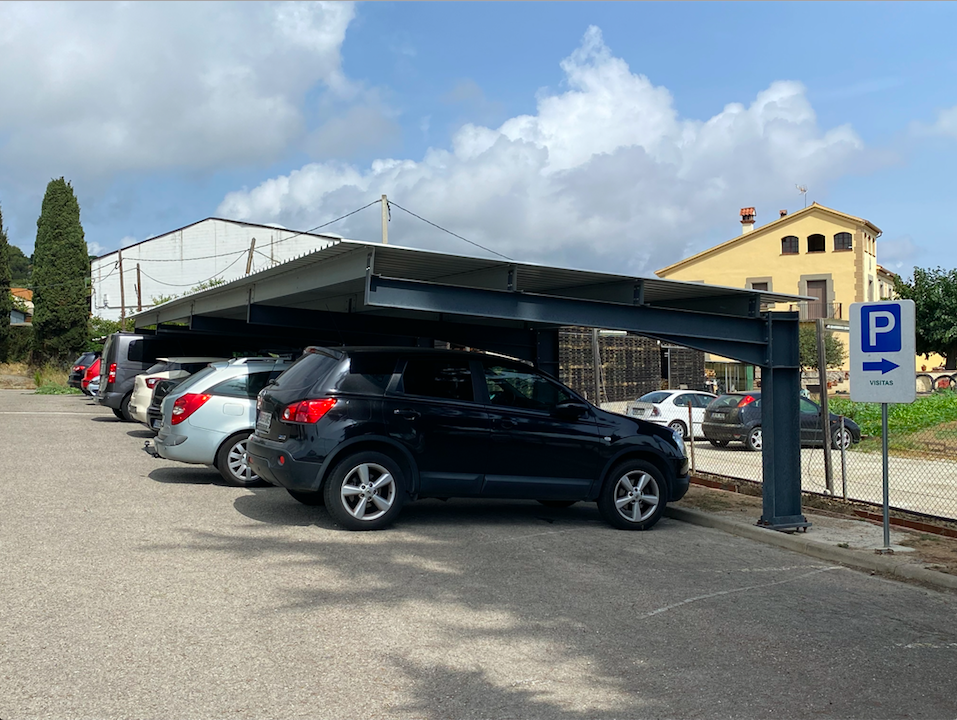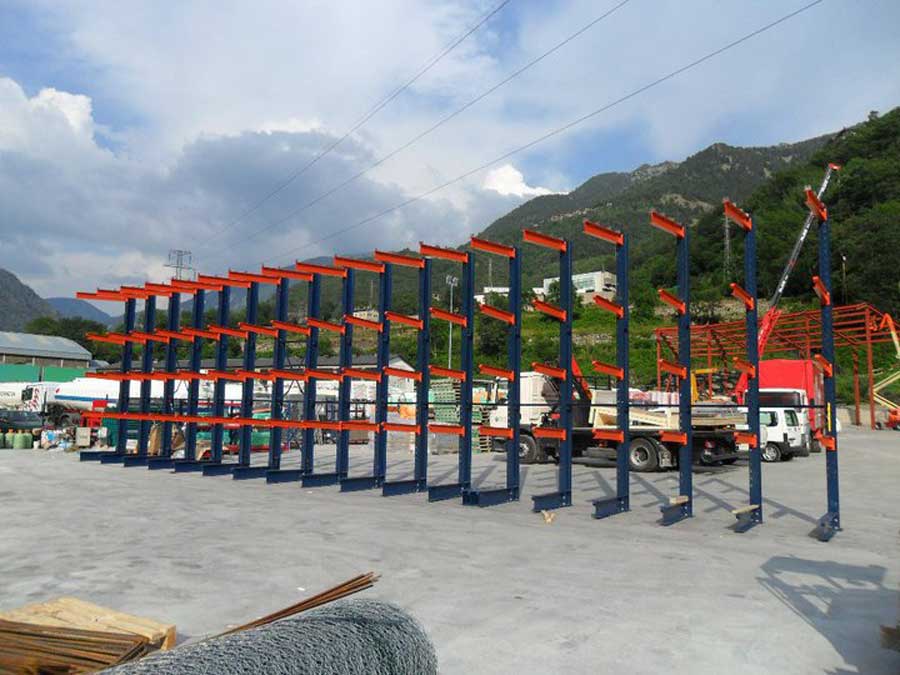 Jansa Metal - products
All types of storage
Metal racks are yet another product we can offer. Their structure can be adapted according to the space and use required. We provide racking solutions for all types of storage, such as boxes, pallets, bars and very long objects.
What exclusive advantage do our racks offer?
The possibility of including a canopy at the top, allowing outdoor installation and protection of the stored items. These canopies can be very long, allowing for a car parking space with a small storage room.
We do in addition offer very competitive prices, with a customized service to adapt to customers' exact needs.
Would you like to provide us with your project and receive an estimate of the materials for the installation of the structure?
Jansa Metal - products
Did you know that building mezzanines is the easiest and most profitable way to gain space?
Take advantage of the volume of your workshop, factory building or premises, business or home as just another part in the construction of industrial buildings or houses, allowing you to adapt previously constructed buildings to new needs.
As JANSA METAL is a company specialising in the construction of mixed structures and mezzanine projects, we can take special needs into account, such as bigger gaps between columns, regardless of the load that the mezzanine has to support.
We take care of the entire structure, including access stairs and handrails.
We can also prepare the beams and their anchorage points for the structure to be shipped anywhere in the world, and we arrange for a construction company team hired by the customer to assemble the structure.
Want to know more? Don't hesitate to contact us.
Jansa Metal - products
We offer enclosure systems with thermal and/or acoustic insulation capacity, according to the needs of each construction.
Modular panel systems for roofs of houses, industrial buildings and other structures, and modular panel systems for facades. Maximum speed in assembly with the consequent cost savings.
What systems can we offer you?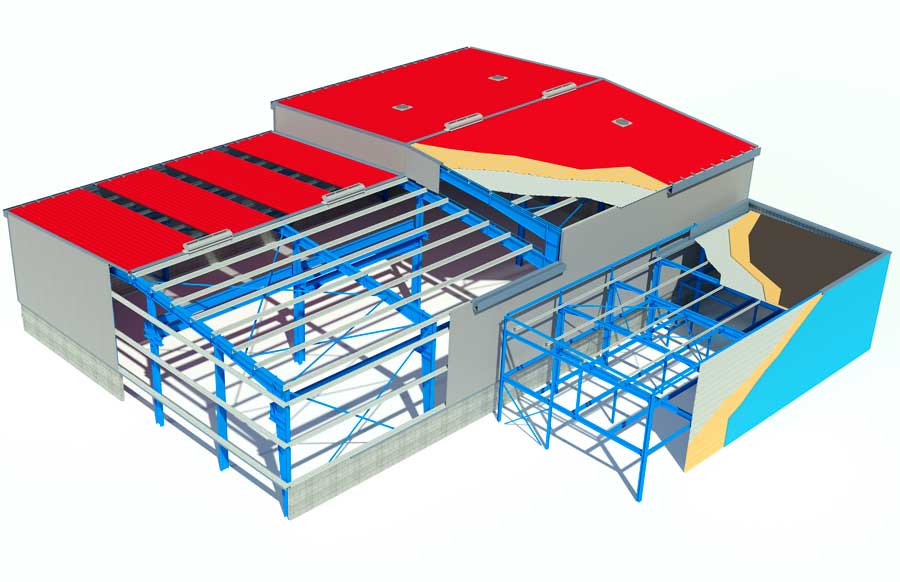 roofing systems
Roofing systems for buildings with a variety of modular options for the construction of roofs, meeting all types of acoustic and thermal insulation needs, as well as different pitch requirements.
1) Single Sheet System
The most economical solution for single-ply roofing systems, with guaranteed waterproofing.
2) Jandwich Double insulation System
The most commonly used insulation system, as the bottom sheet can be perforated for acoustic insulation.
3) Jansaroll system
The cheapest system, with vapour barrier and guaranteed waterproofing. The 40mm profile is more resistant and performs better in torrential rain due to its greater wave height.
4) Jansroof Polyurethane System
Offers maximum insulation efficiency due to its better heat transfer coefficient and total absence of thermal bridges. Allows purlin distances of up to 2.5 m.
5) Jansroof Rockwool System
The same characteristics as above, but with rock wool insulation that offers fire resistance and acoustic insulation.
6) Jansdeck System
The best solution for flat roofs (1% – 4%) with maximum waterproofing and with all the advantages of the sandwich panel.
facade systems
Ideal for the construction of customized metal buildings.
It offers a wide variety of modular options for building
facades, industrial buildings and civic buildings
and is suitable for stone cladding.
The facade systems can meet all types of
acoustic and thermal insulation needs, depending on the
building requirements.
1) Single Sheet System
The most economical system, with simple sheet metal and guaranteed
waterproofing, together with a pre-lacquered steel finish.
2) Jansroll System
Very affordable system with a vapour barrier, guaranteed
waterproofing and high strength (40mm profile).
3) Jansline system
Thanks to the enclosures being integrated with a flat surface on the
inside, there is no need for purlins. High insulation capacity
(120mm) and load-bearing capacity (9m).
4) Double JansWall system
Eliminates the need for intermediate purlins, which are integrated
into the system, together with a high insulation capacity. It does in addition
allow a horizontal position of the outer sheet.
5) JansWall Basic System
Offers a panel with integrated ribs and joints. A true classic.
6) JansWall Flat System
Panels with micro-ribs, giving a perfect finish at the best
price.